Home
My year in review - 2015
Github

Talks
Details: My Talks
Meetups
Two meet-up groups created and continued in 2015:
Blog

Most viewed blog posts by me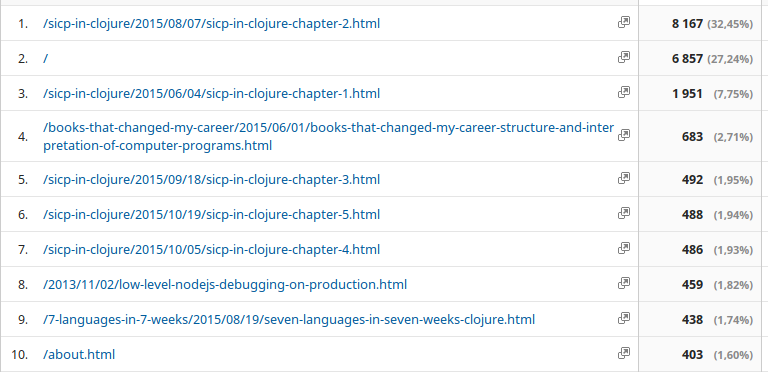 Books
List of book which I've read in 2015 and reading challenge.
Favorite technical book of 2015
Pragmatic Thinking and Learning: Refactor Your Wetware - blog post about it
Number of books read
Programming
Favorite programming languages (or related) I've hacked on/with this year
Languages with pet projects:
Programming languages used for work-related projects this year
JavaScript - ES 5 (Node.js, Front-End), JavaScript - ES6 (Front-End), Java, C, Ruby, Python, Bash
Programming languages that I hope to explore next year
Plans for 2016
Apply 100:10:1 rule to my open source work.
Proceed with cost-benefit analysis and focus on monetization in terms of open source work.
Try to kick-off another meet up in Silesia region - Papers We Love.
Learning (even more than previously) about theory and how to design distributed and real-time systems.
Focus on doing interactive blog posts and higher quality (premium?) materials.
Push even harder work related with quality and visibility of blog posts.
Take more time to discover new music.
Happy New Year!